FOUL-UP PRESENTS COPENHAGEN RELEASE PARTY FOR "LIMERENCE" BY MISANTROP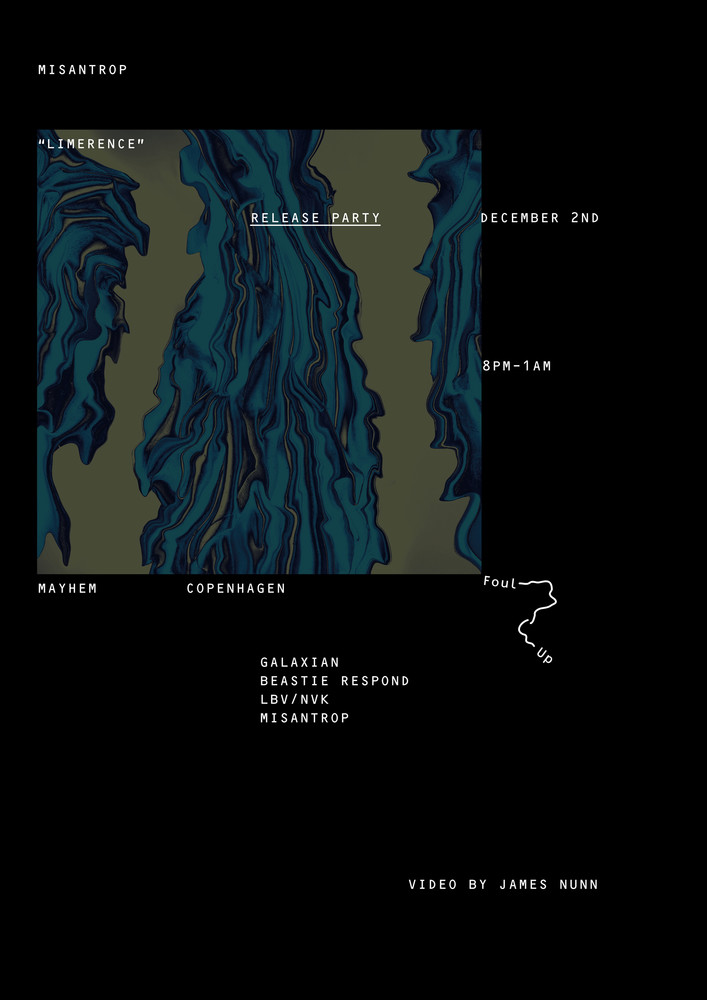 GALAXIAN
Scotland

Galaxian debut in Copenhagen!

Releases on labels including Last Known Trajectory and more recently with DJ Stingray on Shipwrec are both distinctive and remarkably vital and have further cemented Galaxian's reputation for pushing boundaries in unexpected and exciting new directions. A provocative visual style, political and philosophical attitude further submerge the listener in Galaxian's visions and ideas. Kitted out in trademark helmet and mask, as if to foresee a collapse of the current social fabric, his live shows are dripping with raw energy and atmosphere generating an immersive experience which commands attention. 2017 promises a host of 12" releases on the impressive Shipwrec, Helena Hauff's Return To Disorder, Greece's Lower Parts and more. Harnessing his appetite for an uncompromising and authentic approach Galaxian proceeds to challenge, defy and redefine the sonic parameters.

https://soundcloud.com/galaxian
---
BEASTIE RESPOND
Denmark

The urge to fuse elements from different musical periods and styles is the key drive behind the Beastie Respond moniker.
Between 2011 and 2013 Danish label Teal Recordings released Beastie Respond's first three EPs followed by the debut album "Fictitious Nostalgia". Over the course of his Teal releases, the artist moved from making distinct drum'n'bass tunes to having his own unique genre-defying sound.
While over the following years having contributed tracks to Dylan & Loxy's Cylon Recordings and dBridge's Exit Records, the proper follow-up to Beastie Respond's debut full-length came in 2016. Summer 2016 saw Beastie Respond return with the EP "Back to the Future" on Copenhagen's Circle Vision imprint. Now, yet again, Beastie Respond is re-inventing his own sound for big things to come in 2017. Expect plenty of unreleased productions in Beastie Respond's ever-eclectic DJ sets!

https://soundcloud.com/tobiaspedersen
---
LBV/NVK
Denmark/Germany
Official live debut!

LBV/NVK is a collaborative project between Lasse Bjørck Volkmann (Metalized Man) and Nicolai Vesterkær Krog (Misantrop). Semi-spontaneously conceived one hazy night in Nicolai's adopted home Berlin, the project has since been playing out mainly at Mayhem's rehearsal spaces. So far having been solely focused on live jam sessions, the project's operation is best described simply as energy-music.

---
MISANTROP
Germany/Denmark

Tonight celebrates the release of Misantrop's debut EP "Limerence" which also doubles as the inaugurating release of his own label Foul-Up.
The music by Misantrop builds upon the past, but mostly sidestepping solid amalgamations. His sounds have an obvious kinship with club and dance music, but listen closely... something is turning. This is music rooting in rough social contexts, nurtured on those awkward moments of misapprehension where you half-hear something, make wrong assumptions that still feel so right in the moment – sticking with you although you've been put straight.
So what's happening on "Limerence"? There are elements of an industrial mindset, but the title piece reverses out of garage/classic house that nods to 90s r'n'b. On "Nocturnal Emission" a guitar solo is vogueing out on the floor, psychedelic rock meets psychotic blues by way of sheer UK sound. Misantrop describes the track as the sonic equivalent to "flirting all night, but going home alone." Add to that a wobbling bass on the techno-leaning "No. 3", adorned with a reference to classical composition in the cluster strings whilst "They Don't Know" puts on a bit of electro, noise and some giallo synth arpeggiation... There's shine, atmosphere and a rather fascinating depth of field there, even though your usual reference points won't be of much help on this occasion.
"Limerence" draws its inspiration from all over contemporary music and noise grounds – not wearing its "influences" in the most opulent manner but well declaring its material with confidence.
Misantrop is out to change the way you listen to music, no matter how chaotic the journey is, showing off a vision that's both deeply human and richly transcendent.
For this particular occasion, Misantrop will be playing an open-ended experimental set.

https://soundcloud.com/misantrop666
---
JAMES NUNN

For the event Australian visual artist and designer James Geoffrey Nunn will be presenting his maiden video project.